Sondex Welded Heat Exchangers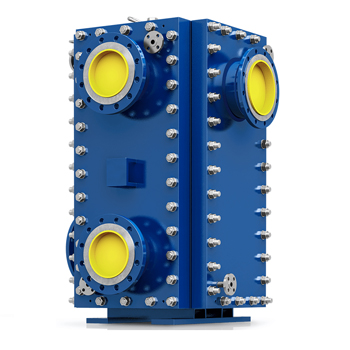 Danfoss SONDEX® SondBlock heat exchangers (SB/SBL) are compact and durable solutions for challenging applications that involve aggressive media, extreme temperatures, and/or high pressure. As SondBlock heat exchangers have no exposed gaskets, they can replace shell and tube heat exchangers and cover the same duties, yet offer numerous advantages in terms of cost, size, and performance.
SondBlock heat exchangers are much less prone to fouling and clogging and only require occasional inspection and cleaning.
Maintenance and cleaning is less time consuming and space demanding as all the panels on the heat exchanger can easily be removed. The entire plate pack is accessible from all sides with no additional space required.
Block heat exchangers in general mark the beginning of a new era of efficient heat transfer, even for the most challenging applications.
Features and benefits
Perfect as condensers that can be configured to handle duties with or without condensate sub-cooling. SondBlock heat exchangers are also good choices as steam heaters or reboilers for non-cyclic duties, and a smooth and stable steam control system.
A very durable heat exchanger that excels at handling aggressive and fouling media. Able to handle aggressive media on both sides, it is a perfect solution for crude oil refineries and petrochemical plants. A top choice for the most challenging duties.
Increased production output due to the extended uptime of the heat exchanger. Very low maintenance and service requirements. Removable side panels provide fast and easy access to the plate pack for inspection or cleaning.

Technical specifications
Connections from DN50 to DN1000 (2" to 40")
(Frames designed according to FEA and PED 2014/68/EU (EN13445) and ASME sec VIII, Div. 1 construction standards)
Plates made from AISI 304/316, titanium*
Shell materials: Carbon steel, stainless steel
Working pressure up to 25 bar (363psi)**
Working temperature -20 °C up to 300 °C (-40 °F to 572 °F)***
*other materials available upon request
**Higher pressure levels available upon request
***Lower temperatures available upon request

Applications
HVAC industry
Pulp and paper industry
Heavy industry
Mining industry
Petrochemical industry
Chemical industry
Oil and gas production
Steam heaters and reboilers
Partial condensers without condensate sub-cooling
Partial condensers with condensate sub-cooling
Read More