Danfoss Differential Switches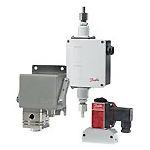 The Danfoss range of differential pressure switches includes components for general industrial use as well as specialised switches for demanding applications.

Danfoss RT differential switches are used in general industrial and marine sectors.
In the Danfoss CAS differential pressure switches series, special attention has been given to meeting demands for a high level of enclosure, low differential, robust, compact construction and resistance to shock and vibration.
MBC 5180 differential pressure switches are used in marine applications where space and reliability are the most important features
Subcategories: