Danfoss WRAS (WRC) Approved Valves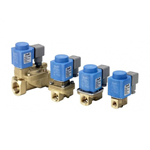 WRAS (WRc) (Water Regulations Advisory Scheme) approved Solenoid Valves
Danfoss has a wider range of WRAS approved solenoid valves than any other manufacturer. Danfoss is the sensible choice when you are looking for valves for use in potable water.
Danfoss has a huge range of WRAS approved solenoid valves from 1/8" up to 2" in size. The complete range of WRAS approved valves can be found within the normal solenoid valve product pages.

Danfoss are one of the few manuafacturers which offers both normally closed (power open EV220B / EV250B) and normally open (power to close EV250B) valves which are approved for use on potable water, and has the WRAS approval.
All valves with the WRAS certificate use EPDM seals which is the ideal choice to seal for use with water and a temperature range from -30° C to 140°C. Danfoss solenoid valves with WRAS approval comprise EV210B DN 1.5 to 6, brass & SS EV210A DN 1.2 to 3.5, brass & SS EV220A DN 6 to 22 EV220B DN 6 to 12, brass & DZR brass EV220B 15 to 50 brass, DZR & SS EV250B DN 12 to 22, EV310A screwed and sub base versions, brass & Stainless steel.
Most voltages available on request:- Solenoid valve bodies and coils can be ordered separately - see individual ranges
Read More