Danfoss TI C (16-30 Series) Thermal Overload Relays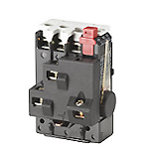 Danfoss thermal overload relays TI 16C-30C cover the range from 0.13-32 Amp and protect squirrel cage motors of up to 15 kW against overload.
The phase failure function accelerates the trip function by three phase run if a phase drop-out occurs. This is particularly important for delta connected motors.
These Overloads are for use with CI6 to CI30 Contactors
Read More