Danfoss Temperature Controls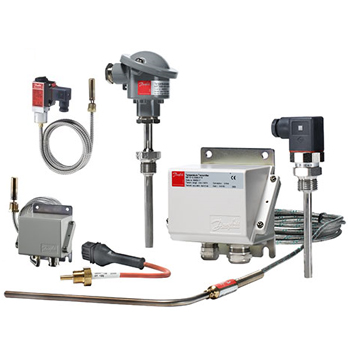 Danfoss temperature switches ( thermostats ) and Danfoss sensors provide control and measurement solutions for a wide variety of applications. The selection of products on this page are some of the most commonly used products in the Danfoss switch / sensor ranges and provides one of the most accurate and reliable product selections available on the market today.
The product range covers applications for both light and heavy industry including Marine, Agriculture, Heating and Ventilation, Air Conditioning, Steam plant and Hydraulics to name but a few.
The Danfoss KP temperature switches provide a compact and cost effective control solution for industrial applications within dry environments (IP33 enclosure).
Danfoss RT and KPS temperature switches feature a high grade of enclosure and are thus well suited for use in harsh environments. The KPS switches are further more extremely resistant to the effects of shock and vibration, making them an appropriate selection for the most demanding applications such as engine monitoring.
With Danfoss CAS temperature switch series, special attention has been given to meeting demands for a high level of enclosure, low differential, robust, compact construction and resistance to shock and vibration.
Technology
Danfoss thermostat products are electromechanical controls which provide a volt free switch contact which will operate at the set temperature, thus providing a simple ON /OFF control. The products provide user adjustment to increase or decrease the differential temperature between switch ON/OFF on rising / falling temperature, this enables their operation to be tuned to the application. Danfoss utilise over 60 years experience in design and manufacture of temperature switch products making them the best in their class.

Danfoss MBT temperature sensors provide a dynamic measurement of temperature utilising PT100 Platinum Resistance technology. The PT100 element is an industry standard sensor, giving a 100 Ohms resistance at 0C and 138.4 Ohms at 100C with near liner characteristic. MBT sensors are calibrated to provide high accuracy and have a fast reaction to temperature change.

Danfoss temperature measurement and control products are based on proven designs and technology. All Danfoss products are produced to exacting quality standards in modern ISO - certified manufacturing plants.

Complete range of temperature controls and technical details at : http://www.mandmcontrols.co.uk/danfoss
Read More