Danfoss Industrial Valves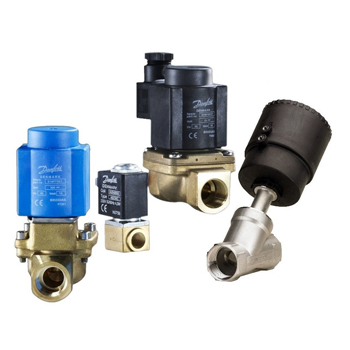 Danfoss extensive valve range includes solenoid valves and externally operated valves.

Danfoss Externally operated valves AV210, HP220 and HP230N are designed for more specialised applications, such as: Media with high dirt content.

Danfoss solenoid valves are available in direct-operated, servo-operated and assisted lift versions. An easy, economical way to control and regulate fluids and gases.

The Compact range of Danfoss solenoid valves EV210A, EV220A and EV310A offers a wide range of features giving advantages over other makes of valve. The valve bodies and coils give optimum performance for their size.
The High Performance range of Danfoss solenoid valves EV210B, EV215B, EV220B, EV222B, EV224B, EV245B (EVJHS), EV225B, EV250B, EV260B and EV310B direct operated or servo operated are used for a large number of industrial applications where a simple and reliable solution is a must.

The Danfoss Coil program consists of both the easy-to-handle Clip-On system and traditional coils with threaded fastener. Also, with approvals such as EEx / ATEX and UL, they offer a wide range of application specific coils for e.g. steam or hazardous areas.

To view our complete ranges of solenoid valves - Click Here

Complete range of process valves and technical details at : http://www.mandmcontrols.co.uk/danfoss
Read More