Solenoid Valves 3/2 Zone Drain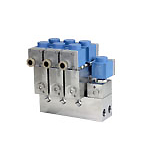 The Danfoss VDHT 2E is a small valve for minor low rates up to 2 litres per minute (0.52 GPM).
It is a direct operated type of valve with one NO and NC armature.
The VDHT 2E requires 2 coils activated by a common signal (ie. 24 V AC). It is suitable for systems with many zones with few nozzles and is a very cost effective solution.
The VDHT 15E is a medium size single inline valve for low rates up to 15 litres per minute (4 gpm to the zone). It is based on the latest valve technology, comprising a piston type NC valve and a NO pilot stage in one housing. The NO part has a relative small orifice, so it cannot drain a big volume very fast.
It covers a very wide low range already starting from 1 litre per minute (0.26 gpm) and is the ideal solution instead of using 2 separate valves (1 NC and 1 NO). The VDHT 15E requires 2 solenoids activated by a common signal (i.e. 24 V AC).
For the complete range of Danfoss 3/2 Zone Drain Water Valves go to our dedicated website: High Pressure Water Equipment - 3/2 Zone Drain Valves
Normaly Closed / Normaly Open, Two Coils, NBR Seals

Type

Max. Input Pressure

Rated




Flow

Ports/ Connection

House Material

Seal Type

Weight kg

Ordering Code

VDHT 2E 3/2 (2 coils)
80 bar
2/2 l/min
G¼
AISI 304
NBR
1,3
180L0298
VDHT 15 E 3/2 NC NO
160 bar
15/4 l/min
G³⁄₈, G¼
AISI 304
NBR
1,5
180L0173
VDHT 15 E 3/2 NC NO
160 bar
15/4 l/min
G³⁄₈, G¼
AISI 304
NBR
1,5
180L0233
VDHT 15 E 3/2 NC NC
160 bar
15/4 l/min
G³⁄₈, G¼
AISI 304
NBR
1,5
180L0297
VDHT 15 EC 3/2 NC NO
160 bar
15/4 l/min
CETOP 3
AISI 304
NBR
1,5
180L0240
CETOP blocks (valves are bought seperately)

Type

Max. Input




Pressure

Rated




Flow

Ports/




Connection

House




Material

Weight




kg

Ordering




Code

Block 1 valves+flush valve
160 bar
30 l/min
G³⁄₈
AISI 304
3,1
180L0181
Block 2 valves+flush valve
160 bar
30 l/min
G³⁄₈
AISI 304
4,5
180L0182
Block 3 valves+flush valve
160 bar
30 l/min
G³⁄₈
AISI 304
6,1
180L0183
Block for 3 VDHT15EC/VDH30EC
160 bar
60 l/min
G³⁄₈
AISI 304
4,5
180L0261
Block for 4 VDHT15EC/VDH30EC
160 bar
60 l/min
G³⁄₈
AISI 304
6,3
180L0262
Block for 5 VDHT15EC/VDH30EC
160 bar
60 l/min
G³⁄₈
AISI 304
8,4
180L0263
Cover plate
-
-
-
AISI 304
0,1
180L0079
Spare part kits fpr 3/2 Valves (instruction is included in spare part kit)

Valve




Type

Spare Part Kit

Pos. No. Included from




Exploded View Drawing

Service




Instruction

Weight




kg

Ordering




Code

VDM 2 E 3/2
Minor service kit
2, 7, 8, 13
180R9073
0,1
180Z0040
VDM 2 E 3/2
Major service kit
2, 7 ,8 ,10,11, 12, 13,14,15
180R9073
0,1
180Z0041
VDHT 15­30 E 3/2
Orifice kit 1 VDHT 1,0
6, 7
180R9161
0,1
180Z0098
VDHT 15­30 E 3/2
Orifice kit 4 VDH 2E 1,4
6, 7
180R9033
0,1
180Z0097
VDH 30EC 3/2
Poppet kit
10,14
180R9033
0,1
180L5005
VDM + VDHT 3/2
Armature kit NC
1, 5
180R9035
0,1
180L5002
VDM + VDHT 3/2
Armature kit NO
4, 5
180R9142
0,1
180L5010
Read More