High Pressure Pumps For Technical Water Type PAHT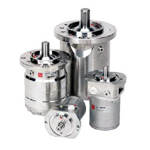 The Danfoss PAHT High-Pressure water pumps are specifically designed for operation on technical water.
Nine pump sizes with displacements from 20 to 308 ccm/rev are available providing flow in the range from 9-338 l/min. (2-90 GPM)
The axial piston principle provides very high efficiency, small and compact design and long service life.
The Danfoss pumps are water lubricated and do not involve any other lubricant making this unique pump maintenance free over its entire service life.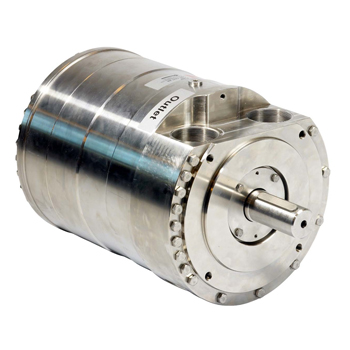 Benefits:
• Maintenance free due to water lubrication and direct drive (no belt or gearbox)
• Very high efficiency compared to any other pump on the market
• Small, compact and light design
• Negligible pressure pulsation, no need for pulsation dampeners
• Extreme recirculation capability without overheating (up to 90% flow at 20o C)
• Wide speed control range
• Stainless steel design AISI 316 (W. No. 1.4401).
• Fulfils most stringent hygiene requirements, i.e. VDI 6022, HACCP
• Suitable for both boosted inlet pressure and water supply from a tank
• Available as ATEX certified
• Can be powered by a Combustion engine
• 3.2 approvals available according to EN10204 (ABS, Lloydsore costumer request)

Application examples:
• Adiabatic cooling systems
• Dust suppression and odour control systems
• Turbine industry:
- Inlet fogging
- Wet compression
- NOx-control
- Fire suppression
- Compressor wash
• NOx-control in Diesel engines
• High-pressure cleaning functions with DI/RO water
For the complete range of Danfoss PAHT Pumps go to our dedicated website: High Pressure Water Equipment - PAHT Pumps
Pumps for Technical Water (Deminerilised, Distilled, RO, Softened-water) for Boosted Applications

Type

Flow at 1500 rpm

Maximum Shaft Speed

Maximum Pressure

Ports/ Connection

House Material

Weight kg

Ordering Code

PAHT 20
27,7 l/min
1800
80 bar
G1¼ , G¾
AISI 316
19
180B0019
PAHT 25
33,5 l/,in
1800
160 bar
G1¼ , G¾
AISI 316
19
180B0020
PAHT 32
45,0 l/min
1800
160 bar
G1¼ , G¾
AISI 316
19
180B0021
PAHT 50
60,1 l/min
1800
80 bar
G1½ , G1
AISI 316
34
180B0085
PAHT 63
85.0l/min
1800
160 bar
G1½ , G1
AISI 316
34
180B0086
PAHT 70
95.3 l/min
1800
160 bar
G1½ , G1
AISI 316
34
180B0087
PAHT 80
110.0 l/min
1800
160 bar
G1½ , G1
AISI 316
34
180B0088
PAHT 90
124.0 l/min
1800
160 bar
G1½ , G1
AISI 316
34
180B0089
PAHT 256
280.0 l/min
1250
120 bar
G2 , G1½
AISI 316
131
180B1001
Spare Part Kits (all kits include service instruction)

Technical Water Pump Range

Description


Pos. No. Included from exploded view drawing

Service Instruction

Weight kg

Ordering Code

PAHT 20-­32
Screw and O­rings kit
2,5,9,122,128,
180R9175
0,32
180B4055
PAHT 20­-32
Tool set shaft sealing
­-
­-
0,19
180Z0236
PAHT 20­-32
Cylinder barrel kit
61
180R9175
3,52
180B4054
PAHT 20­-32
Piston kit
62,63,64,65,66
180R9175
0,89
180B4053
PAHT 20­-32
Valve plate kit
91,92,93,94,126
180R9175
0,35
180B4052
PAHT 20­-32
Shaft seal kit
9,67,122,123,124,127,135
180R9175
0,36
180B4051
PAHT 50­-90
Cylinder barrel kit
61
180R9172
7,5
180B4195
PAHT 50­-70
Valve plate kit
91,92,93,94,126
180R9172
5
180B4192
PAHT 50­-90
Screw and O­rings kit
2,5,9,122,128
180R9172
0,1
180B4196
PAHT 50­-90
Shaft seal kit
9,67,70,122,123,124,127,135
180R9172
0,25
180B4191
PAHT 50­-90
Piston kit
62,64,65,66,71
180R9172
2,8
180B4194
PAHT 80­-90
Valve plate kit
91,92,93,94,126
180R9172
5
180B4193


Technical Data Sheet
High pressure pumps for technical water, type PAHT - Download pdf (3.13mb)
Read More