ASCO Solenoid Valves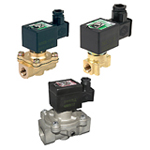 Asco Numatics solenoid valves / pnuematically operated valves for fluid control and automation usually provide you with a solution, but when its not suitable, they offer you technical expertise in the development of specialised products.
Asco manufacture process valves for harsh enviroments. Many industrial applications require very robust valves which are resistant to thermal shocks and dusty or damp conditions. They must be able to transport liquids such as steam of more or less good quality, high pressure hot water, hot or cold liquids, corrosive liquids, inert gases or vacuum.

Note: Solenoid valves are normally closed (power to open) unless otherwise stated.
Subcategories: