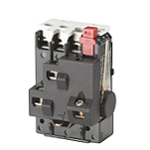 The Danfoss thermal overload range TI 9C-5, TI 16C, TI 25C, TI 30C, TI 80 & TI 86 are used with the contactor range CI 5 - CI 86 to give protection of squirrel-cage motors.
The Danfoss electronic motor protection relays TI 180E and TI 630E give effective protection of electric motors exposed to thermal overload, phase failure and asymmetrical load.
The selection of a Danfoss thermal overload relay must be based on the motor full load current and the method of starting:
- With direct start range for motor starter is used.
- With star – delta start the range for Y/D starter is used.
Read More
Shop By
Shopping Options
Category