Danfoss AVTA With Adsorption Charge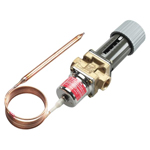 The charge consists of active carbon and CO2 which is adsorbed on falling sensor temperature and thereby produce pressure changes in the element.
• Wide regulating range
• Can be installed in any position as far as orientation and - temperature are concerned
• Withstands up to +130oC sensor temperature
• Small sensor dimensions - Ø 9,5 x 160 mm
• Max. pressure on sensor 25 bar.
Read More