Solenoid Valves 4/3 for Special Purpose and CETOP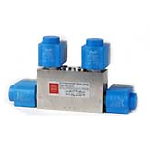 Danfoss Directional Control Valve type VDH 30EC 4/3
For Cetop 3 flange mounting (ISO 4401) and inline mounting
The directional valves are pilot operated On/Off seat valves electrically activated by 4 coils.
The valves are designed according to the seat valve principle where each individual seat valve is controlled by its own pilot stage.
This valve type contains 4 seat valves altogether: two inlet valves and two outlet valves. As each seat valve is individually controlled by its own pilot, this design offers many different valve configurations to the end user.
For the complete range of Danfoss VDH Water Valves go to our dedicated website: High Pressure Water Equipment - VDH Valves
Straight Flow & NBR Seals

Type

Number of




Actuations

Max. Input




Pressure

Rated




Flow

Ports/




Connection

House




Material

Weight




kg

Ordering




Code

VDH 5 EC NC HP
7 million
210 bar
5 l/min
CETOP 2
AISI 304
1,6
180L0294
VDH 30 EC NC
7 million
140 bar
30 l/min
CETOP 3
AISI 304
3,8
180L0046
VDH 30 EC NC
7 million
140 bar
30 l/min
CETOP 3
AISI 316
3,8
180L0047
VDH 30 EC 1+2NC,3+4NO
7 million
140 bar
30 l/min
CETOP 3
AISI 304
3,8
180L0050
VDH 30 EC 1+2NC,3+4NO ATEX
7 million
140 bar
30 l/min
CETOP 3
AISI 304
4
180L0281
VDH 60 EC NC
7 million
140 bar
60 l/min
CETOP 5
AISI 304
3,8
180L0058
CETOP Blocks (valves are bought seperately)

Type

-

Max. Input




Pressure

Rated




Flow

Ports/




Connection

House




Material

Weight




kg

Ordering




Code

Inline block for 1 valve
-
140 bar
30 l/min
G³⁄₈
AISI 304
0,8
180L0060
Block for 1 CETOP3 valve 4/3
-
140 bar
30 l/min
G³⁄₈
AISI 304
2,4
180L0081
Block for 2 CETOP3 valve 4/3
-
140 bar
30 l/min
G³⁄₈
AISI 304
4,4
180L0082
Block for 3 CETOP3 valve 4/3
-
140 bar
30 l/min
G³⁄₈
AISI 304
7,3
180L0083
Block for 4 CETOP3 valve 4/3
-
140 bar
30 l/min
G³⁄₈
AISI 304
9,6
180L0084
Cover plate
-
-
­-
­-
AISI 304
0,1
180L0079
Spare Part Kits (instruction is included in spare part kit)

Valve Type

Spare Part




Kit

Pos. No. Included from




Exploded View Drawing

Service




Instruction

Weight




kg

Ordering




Code

VDH 30 & 60, VPH 15
Poppet kit for AISI 304
8
180R9033
0,1
180L5005
VDH 30 & 60
Poppet kit for AISI 316
8
180R9033
0,1
180L5012
VDH 30 & 60 4/3
Orifice kit 1 VDHT 1,0
6, 7
180R9161
0,1
180Z0098
VDH 30, 60 & 120
Armature kit NC
1, 5
180R9035
0,1
180L5002
VDH 30, 60 & 120
Armature kit NO
4, 5
180R9142
0,1
180L5010
VDH 30, 60 & 120
Orifice (1,0mm)
6, 7
180R9034
0,1
180Z0099
VDH 30, 60 & 120, VPH 15
Orifice tool kit
­-
­-
0,7
180Z0034
VDH 120
Poppet kit
6
180R9034
0,1
180L5001
Read More