Danfoss High Pressure Water Solutions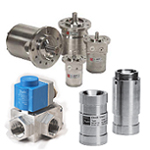 Danfoss High-Pressure Solutions offer their unique Nessie water hydraulics product programme and other HP water solutions. The Danfoss Nessie product programme covers more than 40 patents!
The Danfoss Nessie range main focus is on many distinct solution areas with targeted products and expertise. These areas are Reverse Osmosis, Humidification, Fire Fighting, Industrial Cleaning, Wood Processing, Water Hydraulic Systems, and Gas turbine efficiency and NOx control. Combining that with their internal system house, representing a strong technical and application knowledge, you have come to the best place for high-pressure water solutions.
Danfoss water hydraulic manual valve programme can be divided into flow, pressure and directional control valves - types VCH and VRH.
Danfoss high-pressure pumps based on the positive displacement axial piston principle.
Danfoss solenoid valves VDH and VDHT are used for sending the flow in different directions at different times.
Danfoss water motor program consists of the MAH and APM motors. MAH motors for high-speed applications are based on the axial piston principle.
Danfoss AQ70 is a double acting hydraulic cylinder made entirely of stainless materials, designed for tap water as hydraulic fluid.
Danfoss Power Pack PPH is a compact and flexible supply unit designed for tap water hydraulic systems.
Danfoss Nozzles A range of nozzles are tailored to atomize water in high-pressure water mist systems

For the complete and compresensive range range of Danfoss High Pressure Water equipment including pricing and availability please go to our dedicated High Pressure Water Equipment website.
Read More