Danfoss Temperature Switches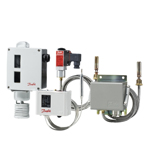 Danfoss temperature switches provide control and measurement solutions for a wide variety of applications. The selection of products on this page are some of the most commonly used products in the Danfoss switch range and provides one of the most accurate and reliable product selections available on the market today.
The product range covers applications for both light and heavy industry including Marine, Agriculture, Heating and Ventilation, Air Conditioning, Steam plant and Hydraulics to name but a few.

The Danfoss KP temperature switches provide a compact and cost effective control solution for industrial applications within dry environments (IP33 enclosure).

Danfoss RT and KPS temperature switches feature a high grade of enclosure and are thus well suited for use in harsh environments. The KPS switches are further more extremely resistant to the effects of shock and vibration, making them an appropriate selection for the most demanding applications such as engine monitoring.

Technology
Danfoss thermostat products are electromechanical controls which provide a volt free switch contact which will operate at the set temperature, thus providing a simple ON /OFF control. The products provide user adjustment to increase or decrease the differential temperature between switch ON/OFF on rising / falling temperature, this enables their operation to be tuned to the application. Danfoss utilise over 60 years experience in design and manufacture of temperature switch products making them the best in their class.

Danfoss temperature switches are well established, and designed and manufactured in our ultra-modern factory, using state-of the-art production equipment.
Subcategories: