Danfoss Electronic Contactors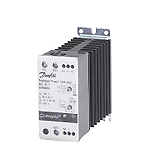 Danfoss ECI Electronic contactors are designed for fast and demanding switching of loads such as heaters, solenoids, transformers and motors. The units are DIN rail mountable, complete with heatsink and require no additional components.
ACI Analogue power controller is designed for very precise temperature and transformer control. The ACI is typically used as controller for heaters and infrared lamps but also ideal on transformer controlled processes.
Read More
Shop By
Shopping Options
Category