High-Pressure Pumps For Fire Fighting Type PAHF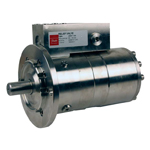 The Danfoss PAHF pumps are especially designed for the high-pressure fire extinguishing industry. It is dedicated for the water mist market for both land and marine applications. The pumps are designed for operation on tap water and the size ranges from 20 ccm/rev to 40 ccm/rev and can provide a l ow from 14 to 115 l/min (3,7 to 30,3 gpm).
Two types of valves are designed for direct mounting on the pump, depending on the specific need: a check valve and a relief valve.
The axial piston principle provides very high efficiency, small and compact design and long service life.
The Danfoss pumps are water lubricated and do not involve any other lubricant, making this unique pump maintenance free over its entire service life.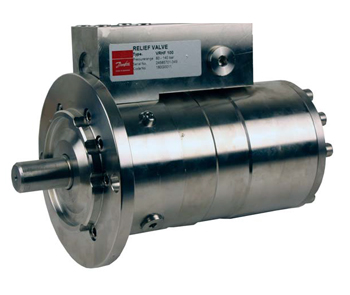 Features
• Very compact and light pump (can be installed with direct coupling to an electric motor/combustion engine)
• Generates insignificant pulsations in the pressure line
• No preventive maintenance required (no periodic service like eg change of lubricant and wear parts)
• Service life 500 hours
• All parts of the pump are made of non-corrosive material and the surface is easy to clean
• Few wearing parts
• Pumps can be directly boosted, without the need of a tank
PAHF
• Pump sizes with nominal flow ranges from 14 l/min up to 115 l/min / 3,7 up to 30 GPM
• Flow is proportional to the shaft rpm.
• Geometric displacement 20-40 cm3/rev
• RPM range from 700 to 3600 /min
• Continuous pressure up 160 bar / 2300 PSI (peak up to 220 bar / 3200 PSI)
• Fluid: clean tap water according to EU-Directive 98/83/EC (10µ absolute filtration, ß-value > 5000)
• Fluid temperature 3° to 50° C / 37° - 122° F (with antifreeze -30° - 50° C / -22° - 122° F)
• Ambient temperature 0° C to 50° C / 32° - 122° F
• Total efficiency over 90% on certain pumps and certain load conditions
• Stainless steel AISI 304 design
For the complete range of Danfoss PAHF Water Pumps go to our dedicated website: High Pressure Water Equipment - PAHF Pumps
Pumps for Fire Fighting

Type

Flow @ 1500 rpm (100 bar)

Flow @ 3600 rpm(100 bar)

Maximum Shaft Speed

Maximum Pressure

Ports/ Connection

House Material

Weight kg

Ordering Code

PAHF 20
28,6 l/min
70 l/min
3600
160 bar
G1½ , G¾**
AISI 304
16,2
180B0092
PAHF 25
36,1 l/min
88,1 l/min
3600
160 bar
G1½ , G¾**
AISI 304
16,2
180B0093
PAHF 32
45,9 l/min
112 l/min
3600
160 bar
G1½ , G¾**
AISI 304
16,2
180B0094
PAHF 40
56,8 l/min
115,3 l/min*
3000
160 bar
G1½ , G¾**
AISI 304
16,2
180B0095
* For PAHF 40 max is 3000rpm
** With the use of the adapter - see valve add-ons below
Adaptor

Type

This adaptor adds a ¾" outlet port to the PAHF 20­40 pumps. It can be directly mounted using 4 M8 screws

Ports/ Connection

House Material

Weight kg

Ordering Code

Adaptor
-
G3⁄4
AISI 304
0,33
180B0096
Relief Valve

Type

Max. Pressure

Adjustable range

Rated Flow

Ports/ Connection

House Material

Weight kg

Ordering Code

VRHF 100
160 bar
80­140 bar
100 l/min
G3⁄4
AISI 304
2,83
180G0011
Check Valve

Type

Max. Pressure

-

Max. Flow

Ports/ Connection

House Material

Weight kg

Ordering Code

VCH 150
160 bar
-
150 l/min
G3⁄4
AISI 304
0,87
180H0117
Integrated Relief Valve and Unloader Valve

Type

Max. Pressure

-

Max. Flow

Ports/ Connection

House Material

Weight kg

Ordering Code

VPHF 100
160 bar
-
100 l/min
G3⁄4
AISI 304
7
180G0010


Technical Data Sheet
High-Pressure Pumps For Fire Fighting Type PAHF - Download pdf (1.34mb)
Read More