The Danfoss range of general purpose solenoid valves is a series of modern 2-way valves for use with neutral liquids and gases.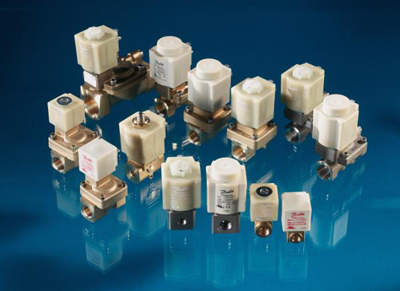 These products are based on more than 50 years of experience in the design, production and application of high quality solenoid valves. The Danfoss range of solenoid valves is stocking and user friendly, as valve bodies and coils are being supplied separately in most cases.
Many combinations are therefore possible with relatively few code numbers, allowing flexibility through reduction in warehouse costs, installation advantages and optimum delivery conditions.
Approvals:
• CSA certified no. 52727
• UL file no. MH7648
Valve types:
Direct acting valves, type EV210B, with no minimum differential pressure requirement. For smaller flow volumes.
Pilot operated valves, type EV220B which require a minimum differential pressure for correct operation.
For medium to large flow volumes.
Direct lift, pilot operated valves, type EV250B, designed for application in closed circuits with low, undefined pressure. For example central heating systems. The valves have no minimum differential pressure requirement.
Direct and servo operated valves for steam, type EV215B, EV225B. Modulating solenoid valves providing proportional flow regulation as the degree of opening is proportional to the coil current, type EV260B.


Technical information on Danfoss Industrial UL and NPT Valves.