The Danfoss range of MBT temperature sensors helps you make a difference to the bottom line by offering a reliable source of temperature control in industrial applications from compressed air to windpower.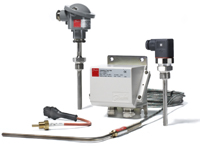 Features:
• High degree of protection against moisture
• Measuring temperatures – 50° C to 800° C
• Fixed or changeable measuring insert
• Pt 100 / Pt 1000 resistance element, NTC / PTC and Thermocouples
• Built-in transmitter available
• Marine approved
Applications of Temperature Sensors
Inaccurate temperature sensors can cause fatal consequences such as reducing the lifetime of your equipment if overheated by just a few degrees.
Danfoss temperature sensors are designed for applications within:
Transportation: Off-road vehicles, Rail, Marine.
Machine & Equipments: Compressor & Pumps, Metal Working Equipment, Hydraulic, Industrial engines.
Process & Energy: Windpower, Gen-Sets.
• Temperature is a critical indication of the status of the bearing in any wind turbine. If a bearing overheats by just a few degrees, it will dramatically reduce its lifetime and lead to turbine down time. Danfoss bearing temperature sensors effectively help prevent overheating by constantly monitoring the status of the bearing and offering highly accurate temperature measurement.
MBT 5310
• Spring loaded to ensure close contact with the bearing
• Measurement range: -50 °C to 200 °C/-58 °F to 392 °F
• Pt 100 technology
• Insertion range 48 mm to 450 mm/1.9 in to 17.7 in
HVAC/R: Refrigeration, Boilers

Temperature Sensors for Compressed Air Systems

MBT 3260
• Competitively priced
• Quick response time
• Brass/copper construction
• Dedicated 0 to 120°C measuring range for lubricated compressors
MBT 5250
• Removable measuring insert suited for compressors with high vibrations or on applications demanding regular calibration and maintenance
• Corrosion resistant stainless steel AISI 316 Ti sensor
MBT 3560
• Compact design with built-in 4-20 mA transmitter
• Corrosion resistant stainless steel AISI 316 Ti sensor
• High vibration resistant
• Dedicated 0 to 120°C measuring range for lubricated compressors
MBT 3270
• Targeted for customised design to volume OEMs
• Competitively priced
• Ultra compact construction
• High vibration resistant
• Available in brass or stainless steel AISI 316 Ti
MBT Sensor code number reference:
Product Code Type Description
084Z8260 MBT110B-head with connector
084Z0158 MBT100
084Z4409 INSERT MBT113-020-273-H180
084Z4388 MBT113-020-273-0000
084Z4426 MBT113-122-110-0-H160
084Z0159 MBT120-540-133-4
084Z6052 MBT120-210-150-3
084Z6053 MBT120-210-200-3
084Z6054 MBT120-210-250-3
084Z6071 MBT120-210-100-8
084Z6072 MBT120-210-150-8
084Z4420 MBT120-010-050-3
084Z4421 MBT120-010-080-3
084Z4422 MBT120-010-100-3
084Z4446 MBT120-371-100-3
084Z6070 MBT120-210-050-8, 50mm 1/2-14NPT
084Z7080 MBT120-210-070-3
084Z7258 MBT120-630-050-3
084Z7259 MBT120 for MBT3560
084Z7260 MBT120-630-150-3
084Z7261 MBT120-630-200-3
084Z7262 MBT120 for MBT3560
084Z8107 MBT120-00-150-2

MBT150
Product Code Type Description
084Z4411 Inserts MBT150-000-450-0
084Z4413 MBT150-010-150-0
084Z6011 MBT150-0000-120-0
084Z6012 MBT150-010-050-0
084Z6014 MBT150-010-100-0
084Z6016 MBT150-000-300-0
084Z4314 MBT150-000-070-0
084Z8015 MBT150-000-100-0
084Z8016 MBT150-000-150-0
084Z8049 MBT150-0000-050-0
084Z8050 MBT150-0000-250-0
084Z8072 MBT150-000-080-0
084Z8073 MBT150-000-200-0
084Z8147 MBT150-000-050-0
084Z4315 MBT150-000-180-0
084Z4318 MBT150-000-160-0
084Z4400 MBT150-000-110-0
084Z4455 MBT150-000-130-0

MBT152
Product Code Type Description
084Z4302 MBT152-001-0050-00-0000
084Z4303 MBT152-001-0080-00-0000
084Z4304 MBT152-001-0100-00-0000
084Z4305 MBT152-001-0150-00-0000
084Z4306 MBT152-001-0200-00-0000
084Z4307 INSERT 250
084Z4308 MBT152-001-0050-00-G110
084Z4309 MBT152-001-0080-G110
084Z4310 MBT152-001-0100-000-G110
084Z4311 MBT152-001-0150-00-G110
084Z4312 MBT152-001-0200-00-G110
084Z4313 MBT152-001-0250-00-G110
084Z4340 MBT156-B01-080-0000
084Z4343 MBT152-101-0100-00-G140
084Z4334 MBT152-001-0120-00-0000
084Z4350 MBT152-001-0050-01-0000
084Z4351 MBT152-001-0080-01-0000
084Z4352 MBT152-001-0100-01-0000
084Z4354 MBT152-001-0150-01-0000
084Z4355 MBT152-001-0200-01-0000
084Z4356 MBT152-001-0250-01-0000
084Z4357 MBT152-001-0300-01-0000
084Z4366 INSERT 1400MM
084Z4398 MBT152-001-0250-00-G105
084Z4401 MBT152-010-0100-00-0000
084Z4414 MBT152-021-0250-00-0000
084Z4416 MBT152-001-0100-40-G202
084Z4449 MBT152-001-0150-00-G610
084Z4450 MBT152-001-0200-00-G610
084Z4451 MBT152-001-0050-00-G405
084Z4441 MBT152-021-200-00-0000

MBT153
Product Code Type Description
084Z5239 MBT153-4001-0300
084Z5289 MBT153-2100-0250
084Z5295 MBT153-4100-0300
084Z5296 MBT153-4100-0600
084Z5297 MBT153-4100-1000
084Z6030 MBT153-20009 pt100
084Z6031 MBT153-0000-055 pt100
084Z6032 MBT153-21009 pt1000
084Z6033 MBT153-0200-0350
084Z6034 MBT153-0200-0550
084Z6035 MBT153-0200-0850
084Z6036 MBT153-20009 pt100
084Z6037 MBT153-00009
084Z6038 MBT153-00009 pt100
084Z6039 MBT153-2200-0350 3.5m
084Z6040 MBT153-01009
084Z6041 MBT153-01009
084Z6042 MBT153-00029
084Z6200 MBT153-4001-1000
084Z6215 MBT153-00029
084Z6216 MBT153-00029
084Z7006 MBT153-4300-0100
084Z7015 MBT153-0550-2000
084Z7016 MBT153-0550-1500
084Z7022 MBT153-2002-1000
084Z7031 MBT253-6000-0100
084Z7053 MBT153-4300-0300
084Z7085 MBT153-2960-0200 Industri-pack
084Z7094 MBT253-2841-60-040
084Z7293 MBT153-9000-0200

MBT156
Product Code Type Description
084Z4348 MBT156-S01-200-1
084Z4317 MBT156-B01-200-0-0000
084Z4320 MBT156-S01-080-1
084Z4321 MBT156-S01-100-1
084Z4322 MBT156-S01-110-0
084Z4323 MBT156-S01-120-0
084Z4324 MBT156-S01-150-1
084Z4325 MBT156-S01-170-1
084Z4326 MBT156-S01-200-1
084Z4327 INSERT KL.B250MM, PT100, MBT5116
084Z4328 MBT156-S01-300-1
084Z4329 MBT156-B01-080-0-0000
084Z4330 MBT156-B01-100-0
084Z4331 MBT156-B01-120-0-0000
084Z4332 ins.150mm ind 50hals MBT5116-B-head
084Z4333 MBT156-B01-170-0-0000
084Z4335 MBT156-B01-250-0-0000
084Z4336 MBT156-B01-300-0-0000
084Z4337 MBT156-B02-100-0-0000
084Z4338 MBT156-B02-170-0-0000
084Z4339 MBT156-B02-300-0-0000
084Z4369 MBT156-B01-110-0-0000
084Z4424 MBT156-B01-400-0-0000
084Z4425 MBT156-B01-150-1-0000
084Z4435 MBT156-W01-200-4-0000
084Z4437 MBT156-W01-300-4-0000
084Z4454 MBT156-S01-400-0-0000

MBT3260
Product Code Type Description
084Z6055 MBT3260 pt100 50mm copper
084Z6056 MBT3260 pt1000 50mm copper
084Z8180 MBT3260 Pt1000 100mm
084Z8181 MBT3260 Pt100 100mm
084Z8182 MBT3260 Pt1000 250mm
084Z8183 MBT3260 Pt100 250mm

MBT3270
Product Code Type Description
084Z1048 MBT3270-04100-085-90101-0189 = R1 / 4
084Z3013 MBT3270-0A340-032-01001-300
084Z3034 MBT3270-40902-060-60016-200
084Z3049 MBT3270-04100-085-90101-0189 = R1 / 4
084Z3075 MBT3270-0A542-024-80300-000
084Z3078 MBT3270-10000-024-00001-200
084Z3086 MBT3270-0A542-025-40300-000
084Z3088 MBT3270-04100-028-B030-000
084Z3092 MBT3270-04100-032-10300-000
084Z7048 MBT3270-04100-032-00101-018
084Z7052 MBT3270-04101-024-30201-10
084Z7057 MBT3270-04101-024-30001-250
084Z7095 MBT3270-04101-024-30300-000
084Z7103 MBT3270-30001-030-00730-000
084Z7119 MBT3270-12001-035-50001-200
084Z7138 MBT3270-10000-022-00201-013
084Z7143 MBT3270-40002-030-60016-200
084Z7144 MBT3270-40002-060-60016-200
084Z7145 MBT3270-40002-100-60016-200
084Z7161 MBT3270-04101-024-30501-030
084Z7167 MBT3270-07420-053-70400-000
084Z7177 MBT3270-08233-070-21501-270
084Z7197 MBT3270-0A140-050-80507-200
084Z7237 MBT3270-00002-012-A0007-013
084Z7243 MBT3270-0C500-053-20600-000
084Z7244 MBT3270-0D500-053-20600-000
084Z7245 MBT3270-0E500-053-20600-000
084Z7246 MBT3270-0F500-030-B0101-006
084Z7247 MBT3270-0F500-053-20101-006
084Z7248 MBT3270-0G500-040-80101-006
084Z7250 MBT3270-0B500-053-20600-000
084Z7251 MBT3270-0F500-053-20600-000
084Z7269 MBT3270-0A150-037-30100-000
084Z7284 MBT3270-00001-020-20017-300
084Z7285 MBT3270-20002-060-60017-200
084Z7286 MBT3270-20002-100-60017-200
084Z7290 MBT3270-40902-100-60016-200
084Z7291 MBT3270-12000-030-B0001-200
084Z7292 MBT3270-04100-032-01501-100

MBT3300
Product Code Type Description
084Z7069 MBT3300-1043-0040-0000
084Z7070 MBT3300-1043-1040-0000
084Z7072 MBT3300-1043-0050-0000 w.certificate
084Z7073 MBT3300-1043-0050-0000 w.certificate
084Z7077 MBT3300-1043-3040-0000
084Z7096 MBT3300-1043-0041-0000
084Z7101 MBT3300-1013-3021-0000
084Z7102 MBT3300-1013-9021-0000

MBT3560
Product Code Insert Length / extended length (mm)
084Z4030 MBT3560-0000-0050-10-110
084Z4031 MBT3560-0000-0100-10-110
084Z4032 MBT3560-0000-0150-10-110
084Z4033 MBT3560-0000-0200-10-110
084Z4034 MBT3560-0000-0250-10-110
084Z4035 MBT3560-0001-0050-10-120
084Z4036 MBT3560-0001-0100-10-120
084Z4037 MBT3560-0001-0150-10-120
084Z4038 MBT3560-0001-0200-10-120
084Z4039 MBT3560-0001-0250-10-120
084Z4040 MBT3560-0100-0070-62-815
084Z4041 MBT3560-0000-0040-12-120
084Z4042 MBT3560-0100-0050-40-110
084Z4044 MBT3560-0001-0100-12-420
084Z4045 MBT3560-0000-0050-10-115
084Z4046 MBT3560-0000-0100-10-115
084Z4049 MBT3560-0000-0100-42-110
084Z4058 MBT3560-0000-0050-10-112
084Z4059 MBT3560-0000-0050-10-420
084Z4065 MBT3560-0001-0150-62-420

MBT5111
Product Code Type Description
084Z7278 MBT5111-010-150-111-0600
087U4041 MBT5111-0101-0205-000-1-0200-002-0000
087U4042 MBT5111-0101-0205-000-1-0400-002-0000
087U4043 MBT5111-0101-0205-000-1-0600-002-0000
087U8013 Compression adaptors G1/2A
087U8014 Compression adaptors 1/4-18NPT
087U8015 Pocket G1/2-100mm
087U8016 Pocket M18x1 ,5-100mm

MBT5113
Product Code Type Description
084Z3084 MBT5113-B002-250-10-0000
084Z5052 MBT5113-00009000-0000
084Z5081 MBT5113-B001-200-10-0000
084Z5147 MBT5113-B002-400-10-B160
084Z5234 MBT5113-B202-110-10-B160
084Z5248 MBT5113-B001-200-10-0000
084Z5256 MBT5113-B001-250-11-0000
084Z5257 MBT5113-B002-150-10-B160
084Z5274 MBT5113-B001-150-10-0000
084Z5275 MBT5113-B001-250-10-0000
084Z5276 MBT5113-B002-100-10-B160
084Z5277 MBT5113-B002-200-10-H160
084Z5278 MBT5113-B002-250-10-H160
084Z6006 MBT5113-B100mm G3/4A With transmitter
084Z7003 MBT5113-B202-200-10-H160
084Z7008 MBT5113-B001-080-00-0000
084Z7009 MBT5113-B001-100-00-0000
084Z7011 MBT5113-B001-150-00-0000
084Z7013 MBT5113-B001-170-10-0000
084Z7014 MBT5113-B001-300-10-0000
084Z7032 MBT5113-B002-110-10-B180
084Z7036 MBT5113-B002-150-10-0000
084Z7064 MBT5113-B002-100-10-B180

MBT5116
Product Code Type Description
084Z0090 MBT5116-B00-100-1-000
084Z3057 MBT5116-S001-400-90-00009 = M30x2
084Z3117 MBT5116-C001-200-4204-300
084Z3118 MBT5116-C001-200-4204-450
084Z3119 MBT5116-C001-250-4204-500
084Z5009 MBT5116, 100MM 1/2-14NPT pt100
084Z5024 MBT5116-B001-150-10-0000
084Z5025 MBT5116-B001-200-10-0000
084Z5026 MBT5116-B001-300-10-0000
084Z5029 MBT5116-S001-150-11-0000
084Z5033 MBT5116-B001-110-10-0000
084Z5034 MBT5116-B001-250-10-0000
084Z5048 MBT5116-B001-120-10-0000
084Z5102 MBT5116-B001-250-30-0000
084Z5103 MBT5116-B001-200-30-0000
084Z5156 MBT5116-B001-080-00-0000
084Z5157 MBT5116-B001-100-00-0000
084Z5158 MBT5116-B001-120-00-0000
084Z5159 MBT5116-B001-150-00-0000
084Z5160 MBT5116-B001-100-10-0000
084Z5217 MBT5116-B001-450-10-0000
084Z5224 MBT5116-B001-200-20-0000
084Z5262 MBT5116-B002-150-01-0000
084Z5272 MBT5116-B002-150-10-B170
084Z6026 MBT5116, 200MM
084Z6110 MBT5116-S001-080-10-0000
084Z6294 MBT5116-B002-250-50-0000
084Z7092 MBT5116-C000-070-2013-500
084Z7165 MBT5116B-001-080-10-0000
084Z7166 MBT5116-W001-200-10-0000
084Z7182 MBT5116-W001-080-01-0000
084Z7190 MBT5116-W001-150-11-0000
084Z7193 MBT5116-W001-300-14-0000
084Z7196 MBT5116-W001-300-34-0000
084Z7233 MBT5116-C020-100-0013-200
084Z8150 MBT5116, 100MM
084Z8151 MBT5116, 120MM
084Z8152 MBT5116, 150MM
084Z8153 MBT5116, 170MM
084Z8154 MBT5116, 200MM
084Z8155 MBT5116, 250MM
084Z8156 MBT5116, 300MM
084Z8157 MBT5116, 80MM
084Z8158 MBT5116, 100MM
084Z8159 MBT5116, 120MM
084Z8164 MBT5116, 200MM
084Z8166 MBT5116-S001-300-20-0000
084Z8174 MBT5116, 200MM
084Z8176 MBT5116-S001-300-30-0000
084Z8186 MBT5116, 150MM
084Z8250 MBT5116, 100MM with B-head
084Z8252 MBT5116, 150MM with B-head
084Z8254 MBT5116, 200MM with B-head
084Z8255 MBT5116, 250MM with B-head
084Z8256 MBT5116, 300MM with B-head
084Z8257 MBT5116, 100MM with B-head
084Z8259 MBT5116, 150MM with B-head
084Z7151 MBT5116-S011-060-90-0000 / 9 = G3/8A
084Z7152 MBT5116-S011-100-90-0000 / 9 = G3/8A

MBT5210
Product Code Type Description
084Z7129 MBT5210-000-0080-0100-G110
084Z0157 MBT5210-00090103-0000
084Z5042 MBT5210-00030100-3131
084Z5044 MBT5210-00040900-3133
084Z5206 MBT5210-00010100-3233
084Z5231 MBT5210-000-0080-0100-0000
084Z6090 MBT5210-00010100-2233

MBT5250
Product Code Type Description
084Z2250 MBT5250-0000-100-120 industri-pack = 30pc
084Z3007 MBT5250-0000-080-140
084Z3008 MBT5250-0000-250-140
084Z3031 MBT5250-0100-050-230 (50mm)
084Z3112 MBT5250-0000-180-380
084Z3113 MBT5250-0000-080-380
084Z3114 MBT5250-0000-100-380
084Z3115 MBT5250-0000-200-380
084Z5047 MBT5250-0000-100-222
084Z5080 MBT5250-0030-350-220
084Z5089 MBT5250-0000-050-322
084Z5092 MBT5250-0100-200-120
084Z5101 MBT5250-0000-050-150
084Z5122 MBT5250-0000-130-360
084Z5176 MBT5250-0030-300-220
084Z5177 MBT5250-0030-400-220
084Z5179 MBT5250-0000-070-320
084Z5291 MBT5250-0030-500-220
084Z6008 MBT5250-0000-050-120
084Z6017 MBT5250-0000-300-220
084Z6049 MBT5250-0000-100-270
084Z6065 MBT5250-0000-100-123
084Z6075 MBT5250-0000-050-232
084Z6085 MBT5250-0001-050-220
084Z6087 MBT5250-0001-080-220
084Z6099 MBT5250-0020-200-340
084Z6108 MBT5250-0101-150-120
084Z6189 MBT5250-0000-110-340
084Z6194 MBT5250-0100-150-120
084Z6195 MBT5250-0000-120-360
084Z6203 MBT5250-0000-080-240
084Z6222 MBT5250-0000-120-380, M33x2
084Z6224 MBT5250-0000-150-380, M33x2
084Z6231 MBT5250-0100-060-250
084Z6251 MBT5250-0000-100-340 industri-pack (084Z8013)
084Z6298 MBT5250-0001-120-220
084Z7007 MBT5250-0100-120-220
084Z7059 MBT5250-0000-080-720
084Z7060 MBT5250-0000-050-720
084Z7061 MBT5250-0000-100-720
084Z7066 MBT5250-0000-050-370
084Z7074 MBT5250-0000-310-220
084Z7083 MBT5250-0000-050-220
084Z7108 MBT5250-0000-450-120
084Z7128 MBT5250-0000-080-370
084Z7178 MBT5250-0000-140-360
084Z8006 MBT5250-0000-100-240
084Z8007 MBT5250-0000-080-220
084Z8008 MBT5250-0000-150-220
084Z8010 MBT5250-0000-150-120
084Z8011 MBT5250-0000-050-120
084Z8012 MBT5250-0000-100-120
084Z8013 MBT5250-0000-100-340
084Z8014 MBT5250-0000-150-340
084Z8017 MBT5250-0000-060-220
084Z8019 MBT5250-0000-080-230
084Z8020 MBT5250-0000-060-120
084Z8022 MBT5250-0000-200-120
084Z8023 MBT5250-0000-080-150
084Z8024 MBT5250-0000-080-320
084Z8025 MBT5250-0000-150-360
084Z8027 MBT5250-0000-080-120
084Z8036 MBT5250-0000-050-220
084Z8037 MBT5250-0000-050-240
084Z8038 MBT5250-0000-100-140
084Z8039 MBT5250-0000-100-220
084Z8040 MBT5250-0000-150-140
084Z8041 MBT5250-0000-150-240
084Z8042 MBT5250-0000-200-140
084Z8043 MBT5250-0000-200-220
084Z8044 MBT5250-0000-200-240
084Z8046 MBT5250-0000-050-320
084Z8047 MBT5250-0000-150-320
084Z8048 MBT5250-0000-250-320
084Z8051 MBT5250-0000-100-210
084Z8054 MBT5250-0000-100-360
084Z8056 MBT5250-0000-080-340
084Z8058 MBT5250-0000-050-340
084Z8061 MBT5250-0000-050-130
084Z8065 MBT5250-0000-150-230
084Z8066 MBT5250-0000-050-230
084Z8067 MBT5250-0000-100-230
084Z8068 MBT5250-0000-200-230
084Z8069 MBT5250-0000-250-230
084Z8075 MBT5250-0000-250-240
084Z8080 MBT5250-0000-200-360
084Z8083 MBT5250-0100-050-220
084Z8090 MBT5250-0010-080-320
084Z8095 MBT5250-0000-080-290
084Z8104 MBT5250-0000-250-120
084Z8105 MBT5250-0000-120-340
084Z8134 MBT5250-0000-100-320
084Z8136 MBT5250-0000-150-350
084Z8138 MBT5250-0001-100-2200
084Z8139 MBT5250-0100-100-220
084Z8141 MBT5250-0001-150-340
084Z8142 MBT5250-0001-150-320
084Z8143 MBT5250-0001-080-340
084Z8144 MBT5250-0001-250-320
084Z8145 MBT5250-0100-120-130
084Z8146 MBT5250-0000-060-340
084Z8149 MBT5250-0000-100-370
084Z8167 MBT5250-0001-100-322
084Z8187 MBT5250-0001-100-320
084Z8189 MBT5250-0001-100-322
084Z8207 MBT5250-0001-050-322
084Z8218 MBT5250-0000-200-340
084Z8220 MBT5250-0009-060-340
084Z8221 MBT5250-0001-250-340
084Z8225 MBT5250-0001-050-122
084Z8226 MBT5250-0000-060-320
084Z8240 MBT5250-0000-250-220
084Z8244 MBT5250-0000-080-250
084Z8245 MBT5250-0000-100-250
084Z8292 MBT5250-0000-120-220
084Z8293 MBT5250-0010-100-340

MBT5252
Product Code Type Description
084Z3000 MBT5252-0211-0300-0200-0000
084Z3001 MBT5252-1051-0300-0500-0000
084Z3002 MBT5252-1051-0500-0500-0000
084Z3005 MBT5252-1021-0150-0200-G440
084Z3014 MBT5252-0011-0080-0200-G405
084Z3029 MBT5252-0011-0050-0700-G415 (50mm)
084Z3030 MBT5252-0011-0100-0700-G415 (100mm)
084Z3040 MBT5252-0011-0050-0700-G405
084Z3041 MBT5252-0011-0100-0700-G405
084Z3048 MBT5252-0011-0100-0720-0000
084Z5000 MBT5252-0011-0080-0400-G110
084Z5032 MBT5252-0011-0100-0300-G112
084Z5057 MBT52521021-0300-0210-0000
084Z5060 MBT52520011-0100-0740-G202
084Z5062 MBT52520111-0200-0200-0000
084Z5069 MBT52520011-0100-0301-0000
084Z5070 MBT52521021-0250-0301-0000
084Z5076 MBT52520011-0120-0301-0000
084Z5096 MBT5252-0011-0200-0200-G405
084Z5108 MBT5252-0011-0050-0200-G405
084Z5115 MBT5252-0111-0250-1202-0000
084Z5117 MBT5252-0012-0100-0241-0000
084Z5129 MBT5252-0011-0150-0200-G120
084Z5143 MBT5252-0012-0200-0200-G110
084Z5153 MBT5252-0111-0100-0200-0000
084Z5163 MBT5252-0012-0050-0241-0000
084Z5166 MBT5252-0012-0200-0241-0000
084Z5167 MBT5252-0011-0150-G999
084Z5169 MBT5252-0011-0050-0700-G120
084Z5172 MBT5252-1021-0150-0200-G125
084Z5173 MBT5252-0011-0500-0200-G110
084Z5175 MBT5252-0012-0150-0241-0000
084Z5178 MBT5252-0011-0060-0300-0000
084Z5181 MBT5252-1021-0100-0200-G125
084Z5203 MBT5252-0011-0250-0220-G112
084Z5204 MBT5252-0011-0200-0220-G112
084Z5205 MBT5252-0011-0050-0200-H105
084Z5218 MBT5252-0041-0450-0300-0000
084Z5233 MBT5252-0001-0300-0000-G204
084Z5235 MBT5252-1021-0300-0200-G130
084Z5236 MBT5252-1021-0500-0200-G130
084Z5242 MBT5252-0041-0300-0200-G110
084Z5255 MBT5252-0011-0150-0500-0000
084Z5259 MBT5252-1021-0150-0200-A125
084Z5260 MBT5252-0012-0080-0241-0000
084Z5261 MBT5252-0011-0150-0200-G115
084Z5268 MBT5252-0011-0100-0300-B115
084Z5269 MBT5252-0011-0120-0300-B115
084Z5270 MBT5252-0011-0150-0300-B115
084Z5271 MBT5252-0031-0300-0300-B115
084Z5283 MBT5252-1021-0080-0301-0000
084Z5284 MBT5252-1021-0100-0301-0000
084Z5285 MBT5252-1021-0200-0301-0000
084Z6002 MBT5252 50mm ins.G1/2A,
084Z6020 MBT5252 50mm ins.G1/2A
084Z6022 MBT5252 50mm ins.G1/2A
084Z6043 MBT5252 300mm ins G3/4A
084Z6044 MBT5252 80mm ins G3/4A
084Z6045 MBT5252 150mm ins G3/4A
084Z6046 MBT5252 200mm ins G3/4A
084Z6047 MBT5252 250mm ins G3/4A
084Z6048 MBT5252 300mm ins G3/4A
084Z6057 MBT5252 150mm, G1/2A
084Z6058 MBT5252-0011-0250-0201-0000
084Z6067 MBT5252 100mm setting. G1/2A
084Z6083 MBT5252-0011-0100-0200-G215
084Z6084 MBT5252-0000-050-250
084Z6131 MBT5252-0011-0500-0300-0000
084Z6139 MBT5252-0011-0250-0200-0000
084Z6140 MBT5252-0011-0080-0200-0000
084Z6141 MBT525 250mm setting .G3/4A
084Z6142 MBT5252-0011-0080-0200-G110
084Z6143 MBT5252-0011-0250-0200-G110
084Z6144 MBT5252-0011-0080-0300-G110
084Z6145 MBT5252-0011-0250-0300-G110
084Z6147 MBT5252-1021-0250-0200-0000
084Z6148 MBT5252-1021-0050-0300-0000
084Z6149 MBT5252-1021-0080-0300-0000
084Z6150 MBT5252-1021-0100-0300-0000
084Z6151 MBT5252-1021-0150-0300-0000
084Z6152 MBT5252-1021-0200-0300-0000
084Z6153 MBT5252-1021-0250-0300-0000
084Z6154 MBT5252-1021-0050-070-0000
084Z6155 MBT5252-1021-0080-0700-0000
084Z6156 MBT5252-1021-0100-0700-0000
084Z6157 MBT5252-1021-0150-0700-0000
084Z6158 MBT5252-1021-0200-0700-0000
084Z6159 MBT5252-1021-0250-0700-0000
084Z6160 MBT5252-1021-0080-0200-G140
084Z6161 MBT5252-1021-0250-0200-G140
084Z6162 MBT5252-1021-0050-0300-G140
084Z6163 MBT5252-1021-0080-0300-G140
084Z6164 MBT5252-0011-0080-0300-0000
084Z6165 MBT5252-0011-0050-0700-0000
084Z6166 MBT5252-0011-0080-0700-0000
084Z6167 MBT5252-0011-0100-0700-0000
084Z6168 MBT5252-0011-0150-0700-0000
084Z6169 MBT5252-0011-0200-0700-0000
084Z6197 MBT5252-0011-0200-0201-0000
084Z6170 MBT5252-0011-0250-0700-0000
084Z6171 MBT5252-0011-0050-0700-G110
084Z6172 MBT5252-0011-0080-0700-G110
084Z6173 MBT5252-0011-0100-0700-G110
084Z6174 MBT5252-0011-0150-0700-G110
084Z6175 MBT5252-0011-0200-0700-G110
084Z6176 MBT5252-0011-0250-0700-G110
084Z6177 MBT5252-1021-0100-0300-G140
084Z6178 MBT5252-1021-0150-0300-G140
084Z6179 MBT5252-1021-0200-0300-G140
084Z6180 MBT5252-1021-0250-0300-G140
084Z6181 MBT5252-1021-0050-0700-G140
084Z6182 MBT5252-1021-0080-0700-G140
084Z6183 MBT5252-1021-0100-0700-G140
084Z6184 MBT5252-1021-0150-0700-G140
084Z6185 MBT5252-1021-0200-0700-G140
084Z6186 MBT5252-1021-0250-0700-G140
084Z6205 MBT5252 50mm ins
084Z6213 MBT5252-0011-0050-0201-0000
084Z6228 MBT5252-0111-0100-0300-0000
084Z6229 MBT5252-0011-0100-0200-G415
084Z6233 MBT5252-1020-0200-0200-0000
084Z6234 MBT5252-1020-0200-0200-G125
084Z6261 MBT5252-0011-0120-0300-0000
084Z6263 MBT5252-0111-0050-0200-0000
084Z6265 MBT5252-0011-0050-0200-G115
084Z6266 MBT5252-0011-0100-0200-G120
084Z6267 MBT5252-0011-0100-0400-G110
084Z6271 MBT5252-0013-0400-0200-G110
084Z6272 MBT5252-1021-0050-0200-0000
084Z6273 MBT5252-1021-0100-0200-0000
084Z6274 MBT5252-1021-0150-0200-0000
084Z6275 MBT5252-1021-0200-0200-0000
084Z6276 MBT5252-1021-0050-0200-G140
084Z6277 MBT5252-1021-0100-0200-G140
084Z6278 MBT5252-1021-0150-0200-G140
084Z6279 MBT5252-1021-0200-0200-G140
084Z6282 MBT5252-0011-1200-0200-G110
084Z6283 MBT5252-0012-0250-0241-0000
084Z6285 MBT5252-0011-0050-0200-G120
084Z6288 MBT5252-0011-0050-0200-G105
084Z6296 MBT5252-0111-0150-0200-0000
084Z7017 MBT5252-1121-0050-0200-0000
084Z7018 MBT5252-1121-0100-0200-0000
084Z7030 MBT5252-0011-0200-0300-B115
084Z7035 MBT5252-0011-0250-0200-G105
084Z7038 MBT5252-0111-0170-0700-0000
084Z7049 MBT5252-0111-0250-0200-0000
084Z7055 MBT5252-0011-0150-0200-G405
084Z7068 MBT5252-0110-0100-0200-0000
084Z7071 MBT5252-0041-0400-0200-0000
084Z7079 MBT5252-0011-0050-0200-G810
084Z7081 MBT5252-0011-0250-0200-G115
084Z7082 MBT5252-0041-0500-0300-G120
084Z7084 MBT5252-0100-0100-1F02-0000
084Z7087 MBT5252-0011-0300-0300-0000
084Z7090 MBT5252-0011-0130-0300-0000
084Z7097 MBT5252-0010-0050-1200-0000 fixed insert
084Z7099 MBT5252-0100-0150-1F02-0000
084Z7104 MBT5252-0001-0350-0200-G204
084Z7105 MBT5252-0001-0350-0200-G110
084Z7106 MBT5252-0001-0450-0200-G204
084Z7107 MBT5252-0011-0100-0200-G204
084Z7127 MBT5252-0011-0100-0230-G110
084Z7130 MBT5252-0000-0080-0201-0000
084Z7135 MBT5252-0011-0100-0200-G300
084Z7139 MBT5252-0011-0550-0300-0000
084Z7140 MBT5252-0011-0400-0300-0000
084Z7142 MBT5252-0011-0050-0200-L120
084Z7159 MBT5252-0111-0150-0400-0000
084Z7160 MBT5252-0011-0100-0201-0000
084Z7169 MBT5252-0011-0150-0300-G115
084Z7170 MBT5252-0011-0200-0300-G115
084Z7171 MBT5252-0041-1600-0200-0000
084Z7173 MBT5252-0011-0100-0300-G115
084Z7175 MBT5252-0011-0050-0900-G115 / 9 = 3/4-16UNF
084Z7176 MBT5252-0011-0150-0300-G206
084Z7180 MBT5252-0011-0150-0900-0000 / 9 = R3 / 4
084Z7194 MBT5252-0111-0150-0300-0000
084Z7198 MBT5252-0012-0050-0200-G120
084Z7199 MBT5252-0012-0100-0200-G120
084Z7200 MBT5252-0012-0150-0200-G120
084Z7201 MBT5252-0012-0250-0200-G120
084Z7203 MBT5252-0000-0100-1F30-0000B-MINI
084Z7211 MBT5252-0141-0350-0200-0000
084Z7213 MBT5252-0012-0050-0200-0000
084Z7214 MBT5252-0012-0100-0200-0000
084Z7215 MBT5252-0012-0150-0200-0000
084Z7216 MBT5252-0012-0200-0200-0000
084Z7217 MBT5252-0012-0250-0200-0000
084Z7218 MBT5252-0011-0040-0300-G112
084Z7226 MBT5252-0011-0220-0300-G110
084Z7234 MBT5252-0011-0150-0200-G610
084Z7235 MBT5252-0011-0200-0200-G610
084Z7241 MBT5252-0041-0500-0300-0000
084Z7242 MBT5252-1051-0500-0300-0000
084Z7254 MBT5252-0011-0100-0300-G115
084Z7257 MBT5252-0041-0600-0300-0000
084Z7268 MBT5252-0011-0050-0200-G205
084Z7272 MBT5252-1022-1100-0200-G145
084Z7281 MBT5252-0011-0100-0300-G211
084Z7294 MBT5252-1021-0300-0230-0000
084Z7298 MBT5252-1221-0500-0200-0000
084Z7299 MBT5252-0011-0300-0200-G115
084Z8210 MBT5252 50mm ins.G1/2A
084Z8211 MBT5252 100mm setting. G1/2A
084Z8212 MBT5252 150mm setting. G1/2A
084Z8213 MBT5252 200mm setting. G1/2A
084Z8214 MBT5252 50mm setting. G1/2A
084Z8215 MBT5252 100mm setting. G1/2A
084Z8216 MBT5252 150mm setting. G1/2A
084Z8217 MBT5252 200mm setting. G1/2A
084Z8222 MBT5252-0011-1400-0300-0000
084Z8228 MBT5252, 100M, M24X2
084Z8230 MBT5252 50mm setting. G3/4A
084Z8231 MBT5252 100mm setting. G3/4A
084Z8232 MBT5252 150mm setting. G3/4A
084Z8233 MBT5252 200mm setting. G3/4A
084Z8234 MBT5252 50mm setting. G3/4A
084Z8235 MBT5252 100mm setting. G3/4A
084Z8236 MBT5252 150mm setting. G3/4A
084Z8237 MBT5252 200mm setting .G3/4A

MBT5253
Product Code Type Description
084Z5022 MBT5253-221-0100-00000-100-00-0000
084Z5031 MBT5253229-0300-00000-015-00-0000
084Z5035 MBT5253-212-0100-E3000-050-00-0000
084Z5036 MBT5253-210-0000-E3000-050-00-0000
084Z5079 MBT5253-402-0200-A2002-040-23-0000
084Z5263 MBT5253-212-0060-E3000-050-00-0000
084Z7126 MBT5253-501-0100-00001-040-00-0000
084Z7136 MBT5253-407-0100-00001-050-0000
084Z7157 MBT5253-402-0030-E2001-052-00-0000
084Z7158 MBT5253-402-0060-E2001-052-00-0000
084Z7273 MBT5253-402-0125-A2001-050-03-0000
084Z8283 MBT5253-502-0130-C3001-050-23-0000
084X1143 MBT5253-402-0200-C5001-045-10-0000
084Z6050 sensor pocket 50mm
084Z6051 sensor pocket 100mm stainless MBT

MBT5260
Product Code Type Description
084Z6105 MBT5260-0000-100-110
084Z8002 MBT5260
084Z8021 MBT5260-0000-100-120
084Z8033 MBT5260-0000-050-120
084Z8034 MBT5260-0000-150-120
084Z8096 MBT5260-0000-150-220
084Z8132 MBT5260-0000-080-230
084Z8133 MBT5260-0000-080-230
084Z8148 MBT5260-9900-050-129
084Z8229 MBT5260-0000-050-220

MBT5310
Product Code Type Description
084Z5211 MBT5310
084Z5281 MBT5310-00-180-000
084Z7047 MBT5310-BJ-60-2142-6000-41125
084Z7054 MBT5310-BJ-60-2142-3000-41125
084Z7078 MBT5310-00-100-200
084Z7174 MBT5310-00-284-000

MBT5410
Product Code Type Description
084Z5055 MBT5410-000-060-001-H110
084Z5063 MBT5410-000-060-000-G405
084Z5064 MBT5410-000-060-000-G205
084Z5065 MBT5410-000-060-020-0000
084Z5066 MBT5410-000-060-000-G110
084Z5095 MBT5410-020-060-000-0000
084Z7001 MBT5410-000-060-000-H405
084Z7125 MBT5410-010-060-000-0000
084Z8280 MBT5410-000-060-000-0000
084Z4368 MBT5410 Insert PT100 (HL084Z8866)

MBT5430
Product Code Type Description
084Z5244 MBT5430-1012-1012-150-1
084Z7295 MBT5430-1002-150-0

MBT5560
Product Code Type Description
084Z4020 MBT5560-0000-0050-10-110
084Z4021 MBT5560-0000-0100-10-110
084Z4022 MBT5560-0000-0150-10-110
084Z4023 MBT5560-0000-0200-10-110
084Z4024 MBT5560-0000-0250-10-110
084Z4025 MBT5560-0001-0050-10-120
084Z4026 MBT5560-0001-0100-10-120
084Z4027 MBT5560-0001-0150-10-120
084Z4028 MBT5560-0001-0200-10-120
084Z4029 MBT5560-0001-0250-10-120
084Z4051 MBT5560-0001-0050-10-115
084Z4052 MBT5560-0001-0050-12-120
084Z4053 MBT5560-0000-0050-00-120
084Z4056 MBT5560-0000-0050-10-115
084Z4061 MBT5560-0000-0200-10-420
084Z4095 MBT5560-0000-0050-10-415

MBT5722/5721
Product Code Type Description
084Z3009 MBT5722-003-100-0102-000-0000
084Z5001 MBT5722-003-070-0102-000-0000
084Z5104 MBT5722-101-020-0142-010-0000
084Z5109 MBT5722-003-050-0102-000-0000
084Z5145 MBT5722-101-020-0132-010-0000
084Z5146 MBT5722-101-100-0132-010-0000
084Z5184 MBT5722-100-050-0142-010-0000
084Z7236 MBT5722-101-030-0132-010-0000
084Z7239 MBT5722-003-150-0102-000-0000
084Z7270 MBT5722-101-020-0232-010-0000
084Z7271 MBT5722-101-070-0232-010-0000
084Z5170 MBT5722-102-070-0020-010-0000
084Z5208 MBT5722-003-060-0102-000-0000
084Z5225 MBT5722-001-014-0100-080-0000
084Z6115 MBT5722-001-080-0102-000-0000
084Z6116 MBT5722-001-070-0102-000-0000
084Z6117 MBT5722-001-050-0102-000-0000
084Z7181 MBT5721-120-999-000-030-0000
084Z7205 MBT5721-001-002-000-002-0000
084Z7207 MBT5721-120-999-000-031-0000

MBT9110
084Z3011 MBT9110-00DB-D415
084Z5017 MBT9110-G50A
084Z5114 MBT9110-GB0B
084Z5183 MBT9110-E20A-1
084Z5185 MBT9110-000B-D120 With enclosure
084Z5190 MBT9110-G20B without enclosure
084Z5266 MBT9110-BB0B
084Z5267 MBT9110-BD0B
084Z6000 MBT9110A90B
084Z6010 MBT9110-A20A
084Z6018 MBT9110-E75A
084Z6101 MBT9110-H90B
084Z6135 MBT9110-D60B
084Z6202 MBT9110-G90B
084Z6207 MBT9110-A60B
084Z6237 MBT9110-H90B
084Z7025 MBT9110-005A-B180 IN HIGHTENED LID
084Z7029 MBT9110-E60B
084Z7098 MBT9110-000B-D999
084Z7149 MBT9110-000B-K115
084Z7162 MBT9110-00DB-G208
084Z7179 MBT9110-000B-B115
084Z7202 MBT9110-005A-E955
084Z8100 MBT9110-G30A
084Z8101 MBT9110-H75A
084Z8102 cover
084Z8115 MBT9110-d00b
084Z8116 MBT9110-d10b
084Z8117 MBT9110-d20b
084Z8118 MBT9110-D30B
084Z8119 MBT9110-D40B
084Z8120 MBT9110-d50b
084Z8121 MBT9110-DB08
084Z8122 MBT9110-e00b
084Z8123 MBT9110-E10B
084Z8124 MBT9110-E20b
084Z8125 MBT9110-E30B
084Z8126 MBT9110-e40b
084Z8127 MBT9110-E50B
084Z8128 MBT9110-eb0b
084Z8129 MBT9110-E65A
084Z8130 MBT9110-E75A
084Z8131 MBT9110-D90B
084Z8140 MBT9110-G90B
084Z8190 CuGasket G1/2A
084Z8191 CuGasket G3/4A
084Z8192 CuGasket M24x2
084Z8193 CuGasket M33x2
084Z8194 Nameplate
084Z8197 MBT9110 mounting fitting
084Z8243 MBT9110-H90B
084Z8295 MBT9110-G60B
613B1002 TERMINALS
681X9135 SCREW
084Z0550 SOFTWARE Pre-Electronics
084Z4442 SOFTWARE Pre-Electronics

MBT Accessories
Product Code Type Description
084Z4316 PG11 plug
084Z4364 PG9 plug
084Z4372 B-head
084Z4374 Accessories, armoured hose, 500m.
084Z4378 Accessory, adapter G1/2-PG11
084Z4380 Accessories, distance piece
084Z4381 Accessories, washer, screw.retainer, gland
084Z4382 Accessories, tension nut
084Z4383 Accessories, counter nut & adapter
084Z4384 Accessories, connector
084Z4386 Accessory, G1/4 nut indusri-pak 50stk
084Z4419 Drilled protection tube ( ø14 / ø18, G1/2A)
084Z4440 Accessories Gasked
084Z4443 Armering 2,5m ø 8,52 xPG11
084Z4386 Accessory, G1/4 nut indusri-pak 50stk
084Z4419 Drilled protection tube ( ø14 /ø 18, G1/2A)
084Z4440 Accessories Gasked
084Z4443 Armering 2,5m ø 8,52 xPG11


For full technical details on all Danfoss products visit http://www.mandmcontrols.co.uk/danfoss