Danfoss Marine Transmitters
Danfoss world-class marine application controls are engineered to improve performance and lower operating costs.
The marine industry relies on Danfoss products to control and monitor key functions in heavy-duty environments such as ship engine rooms, where equipment must withstand strong vibrations and extreme temperatures. In an industry where equipment failure or unscheduled repairs result in lost time and money or even damaged goods, leading marine companies know that Danfoss is synonymous with reliability.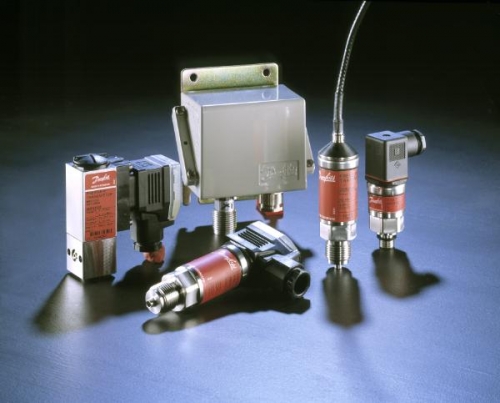 MARINE PRESSURE TRANSMITTERS
Danfoss pressure transmitters designed for marine applications include:
MBS 33M, 3100 (compact) and 5100 (block type) and EMP 2 - ship-approved pressure transmitters, designed for use in almost all marine applications; offer reliable pressure measurement, even under harsh environmental conditions.
MBS 3150 compact ship approved pressure transmitter is designed for use in marine applications with severe medium influences like cavitation, liquid hammer or pressure peaks and offers a reliable pressure measurement, even under harsh environmental conditions.
MBS 5150 - ship-approved high accuracy pressure transmitter in a box design, for use in marine applications with severe medium influences like cavitation, liquid hammer or pressure peaks.
The test and isolation valves MBV 2000, MBV 3000 and MBV 5000 are designed for mounting with MBS pressure transmitters and MBC pressure switches. The test valves give the ability to test the operating control through the test connection. The isolation valves automatically close when a transmitter is removed.

Danfoss offer a complete range of pressure transmitters for a variety of different markets, some of the most common transmitters in order of popularity are listed below:-

060G1125 MBS 3000-2011-1AB04 PRESSURE TRANSMITTER
060G1474 MBS 3150-1811-6BB04 MARINE
060G1133 MBS 3000-2211-1AB04 0-16bar 4-20mA
060G3126 MBS33M PRESSURE TRANSMITTER 0-10 BAR
060G1791 MBS 3250-2011-1GB04-1
060G3125 TRANS MBS33M 0-6 BAR C/ PLUG
060N1036 MBS 5100-2011-1DB04
060G3011 MBS33-2011-1AB08 PRESSURE TRANSMITTER
084G2107 EMP2 PRESS. TRANSMITTER, 0-6BAR, G1/2A
060G3010 MBS 33-1811-1AB08(0-6BAR) 4-20MA
060G3036 MBS 33-1021-1AB08
060N1035 MBS 5100-1811-1DB04
060G3124 MBS33M
060G1124 MBS 3000-1811-1AB04(0-6BAR) 4-20MA
084G2109 EMP2 PRESSURE TRANSMITTER
060G3012 MBS 33-2211-1AB08
060G2421 MBS4510-1011-1CB12
060N1164 MBS 5100-1611-1CC04
084G2106 EMP2 PRESSURE TRANSMITTER
060G3019 MBS 33-3611-1AB08
084G2110 EMP2 PRESSURE TRANSMITTER 0-10 BAR
060G3009 MBS 33-1611-1AB08
060N1034 MBS 5100-1611-1DB04
060G1656 MBS33M 0-6bar 4-20mA 1/2" Pg13,5
060G1122 MBS 3000-1411-1AB04
084G2101 EMP2 PRESS. TRANSMITTER, -1-5 bar, G1/2A
064G6543 MBS 1900-2011-A1PT04
060G3014 MBS 33-2611-1AB08
060G1413 MBS3000-2211-1AB08
060G1463 MBS 3100-1611-6BB04 MARINE
060G1475 MBS 3150-2011-6BB04 PRESSURE TRANSMITTER
060N1162 MBS 5100-2011-1CC04
060G1873 MBS 3200-1611-1AB08-0
060G1966 MBS3050-XX1X-XGB04
060G1113 MBS 3000-1011-1AB04
060G3645 MBS3000-XX14-3AC04
060N1039 MBS 5100-2611-1DB04
060G1153 MBS 3050-3411-1FB04
060G1412 MBS 3000-2011-1AB08
060G1877 MBS 3200-2411-1AB08-0
060G3790 MBS3000-1021-1AB08
064G6542 MBS 1900-2211-A1PT04
060G2423 MBS 4510-1411-1CB12
060N1165 MBS 5100-1011-1CC04
060G2426 MBS 4510-2011-1CB12
060G3129 MBS33M PRESSURE TRANSMITTER 0-40 BAR
060G1430 MBS 3000-2411-1AB04
060G1123 MBS 3000-1611-1AB04
060G1249 MBS 32-2815-1AB08
060G2420 MBS 4510-0811-1CB12
060G3274 MBS 4050-3211-1EB08
060N1065 MBS 5150-2211-1DB04
060N1081 MBS 5150-1011-1DB04
060G1464 MBS 3100-1811-6BB04 MARINE 0-6BARG1/4A
060G1614 MBS 3100-2011-XXXXX MARINE
060G1107 MBS 3000-3011-1AB04
060G1112 MBS 3000-3211-1AB04, 0-160BAR
084G2108 EMP2 PRESSURE TRANSMITTER 0-6 BAR
084G2111 EMP2 PRESSURE TRANSMITTER 0-16 BAR
084G2114 EMP2
060G3013 MBS 33-2411-1AB08
060G3127 MBS33M PRESSURE TRANSMITTER, 0-16 BAR
060G3212 MBS4010
060G3213 MBS4010
060G1349 MBS3000
060G1368 MBS 3100-1811-6AB04
060G1543 MBS3000 G1/4 DIN 43650-A 0-6 BAR
060G1111 MBS 3000 0-250 Bar 1/4" BSP
060G3532 MBS 3100-1011-6AB08
084G2100 EMP2
060G3995 MBS 3000-2012-3GB04
060G3996 MBS 3000-2014-3GB04
060G2427 MBS 4510-2211-1CB12
060G3130 MBS33M PRESSURE TRANSMITTER 0-60 BAR
060G3133 MBS33M 0-250 BAR
060N1005 MBS 5100-2011-2DB04
060N1068 MBS 5100-1611-2DB04
060G1369 MBS 3100-2011-6AB04
060G1372 MBS 3100-2611-6AB04
060G1456 MBS3000-2211-3AB08,0-16BAR W/2M SCREENED
060G1874 MBS 3200-1811-1AB08-0
060G1102 MBS3000-2011-1AB04 PRESSURE TRANSMITTERS
060G1103 MBS 3000-2211-1AB04,PRESS.TRANSM.0-16BAR
060G1262 MBS 32-3615-1AB08
084G2113 EMP2 PRESSURE TRANSMITTER 0-40,0BAR
060G2422 MBS 4510-1211-1CB12
060G3006 MBS 33-1011-1AB08
060G3060 MBS 33-1811-3AB08
060G3132 MBS33M 0-160BAR
060G3141 MBS33M
060N1019 MBS 5100-1611-1CB04
060N1033 MBS 5100-1411-1DB04
060N1037 MBS 5100-2211-1DB04
060N1061 MBS 5100-1811-2DB04
060N1064 MBS 5150-2011-1DB04
060N1071 MBS 5150-1611-2DB04
060N1084 MBS 5150-1611-1DB04
060N1091 MBS 5150-1811-2DB04
060N1092 MBS 5150-2411-2DB04
060G1411 MBS 3050-2811-1FB04
060G1465 MBS 3100-2011-6BB04 MARINE 0-10BARG1/4A
060G1470 MBS 3100-1811-6AB08 MARINE
060G2418 MBS 4510-0411-1CB12
060G3388 MBS 3100-2611-6AB08 MARINE
060G1810 MBS3100-3211-6AB08
060G1129 MBS 3000-2011-3AB04
060G1130 MBS3000
060G1226 MBS 32-1815-1AB08
060G1228 MBS 32-2215-1AB08
060G1269 MBS 32-2025-1AB08
060G2099 MBS33
084G2116 EMP2
064G6523 MBS 1900-2211-A1AB04
060G3008 MBS 33-1411-1AB08
060G3041 MBS 33-2021-1AB08
060G3061 MBS 33-2011-3AB08
060G3128 MBS33M
060G3214 MBS4010
060N1004 MBS 5100-2611-1CB04
060N1128 MBS 5100
060G1152 MBS 3050-3211-1FB04
060G1404 MBS 2050-3216-1FB04
060G1429 MBS 3000-1211-1AB04
060G1472 MBS 3100-2211-6AB08 MARINE
060G1539 MBS 3000-1611-1AB08
060G1540 MBS 3000-1811-1AB08
060G1542 MBS 3000 2411-1AB08
060G1875 MBS 3200-2011-1AB08
060G1105 MBS 3000-2611-1AB04
060G1128 MBS3000
060G1261 MBS 32-3415-1AB08
084G2104 EMP2 PRESSURE TRANSMITTER
084G2105 EMP2
084G2112 EMP2 PRESSURE TRANSMITTER 0-25 BAR
084G2169 EMP2
060G3722 MBS3100-1811-XAB04
060N1218 MBS 5100-2011-0DB04
060G3814 MBS3000-2415-1AB04
060G3842 MBS3000-XX11-1AB04