Sondex Brazed Heat Exchangers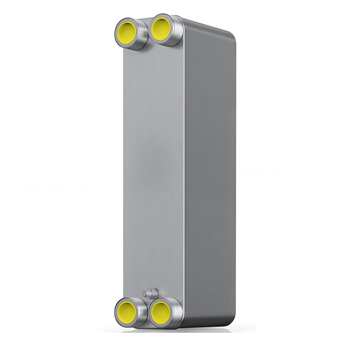 Danfoss and SONDEX® brazed heat exchangers (XB/SL) have been consolidated into a single, combined product portfolio for complete coverage of all applications. The durable, permanently sealed heat exchangers feature advanced technology and superior safety measures designed to provide you with the ultimate in heat transfer with minimal operational costs.
Our brazed plate heat exchangers (XB/SL) offer a compact and flexible solution designed for ultra-efficient performance for your high-pressure or extreme-temperature applications.

Features and benefits
Low operational costs, small hold-up volume, and high performance make our brazed heat exchanger solutions the ideal choice for many applications. Cut your costs and increase your profits with the help of our brazed portfolio.
The permanently sealed heat exchangers offer a durable solution with an extended lifetime. Enjoy peace of mind with the double-walled design that provides the ultimate protection against leaks.
With the energy-optimized, tried-and-true Fishbone technology, or the revolutionary Micro Plate™ technology; the combined Danfoss and SONDEX® product range offers the ultimate in brazed heat transfer solutions.

Technical specifications
Connections from ¾" threaded BSP/NPT to flange DN150 (6")
Brazing materials: Copper, copper+, or stainless steel
Plate materials: AISI 316*
Plate heights from 0.202 m to 1 m (0.66 – 3.3 ft)
Flow rates up to 150 m3/h (661 gpm)
Working pressure up to 40 bar (580 psi)
Working temperature from -196 °C to 225 °C (-321 °F to 437 °F)
*other materials available upon request
Applications
HVAC industry
Dairy/food/beverage industry
Refrigeration industry
Evaporator and condenser applications
Solar heating
Oil units
Heat recovery
Engine cooling
Evaporation and condensing
Desuperheating
Absorption systems
Domestic hot water installations
Process cooling
Hydraulic oil cooling
Laser cooling
Water cooling and heating
Read More